Listings of Fun Mah Jong Games for Play Online or Download - Chinese tile matching game
---
Play Mahjong Flowers at GameDuell


Game to Win Real Cash Prizes


Mahjong Flowers is a fun online Mahjong Solitaire tile game in which you can compete against other players in duels to win cash. The game contains the twist of bonus points for matching pairs of numbers in runs. Enter 2-player to 5-player practice duels to learn the games and improve your gameplay. You get 1,000 Credits to use to play practice games with when you join (prizes in the practice games are Credits). Deposit as little as $5 to play in tournaments against other players to win real money! (By the way, GameDuell offers lots of other fun games to play too.)


Eligibility Requirements:

Open to legal residents of the United States, including the District of Columbia. 18 years of age or older Based on US laws, citizens of the following states are not allowed to become a MoneyPlayer and play for cash prizes: Alaska, Arizona, Arkansas, Connecticut, Delaware, Florida, Illinois, Iowa, Louisiana, Maryland, Missouri, Montana, South Carolina, South Dakota, Tennessee




Mahjong Trails


Facebook Mahgong Solitaire Game


- Match pairs and discover new layouts as you travel through the levels and around the world! Layouts get more and more difficult as you progress through the game and you must solve each one within the time limit given. You can also compete with your Facebook friends for high scores. Spin the Daily "Wheel of Fortune" to win free game bonuses.


Mahjong In Poculis


Mahjong Freeware Game to Download


- A free version of Mah Jong Solitaire you can download and play on your computer. The game includes a choie of six themes - Asian, Neutral, Wonderland, plus three holiday themes - and each theme features a selection of tile layouts. There are three difficulty levels available and World Ranking Scores. Nice background music accompanies each theme, I quite like the "Halloween" themed game! (This is a completely free game, though after each game play you are directed to the website where they ask for a voluntary donation).


FREEWARE GAME DOWNLOAD size 15.19 MB for Windows. Also available for Mac or Android.




---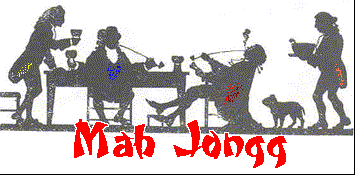 Did You Know? There was a huge Mahjong Craze that hit America and spread to big cities around the world in the early 1920s.

A little history - - between around 1922 until 1924, everyone in America was playing the game of Mahjong. The game was introduced by a young man named J.P. Babcock who re-invented Mahjong based on an ancient Chinese tile game. The game became so popular that tearooms held afternoon "Mah-Jong Teas" including lessons and game play, and all sorts of Mahjong themed goods were being created and sold to the fad-craved public - Mah Jong tile sets, beads and bracelets, candy, lingerie and Chinese pajamas, even shoes!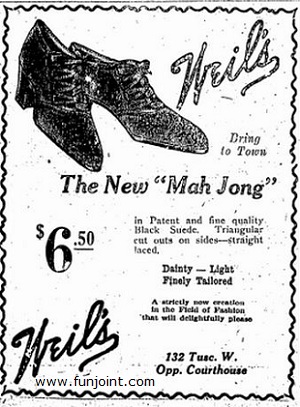 Vintage advertisement from November 1923 for the new "Mah Jong" ladies shoes, in Patent and fine quality Black Suede. "A strictly now creation in the Field of Fashion that will delightfully please". Only $6.50!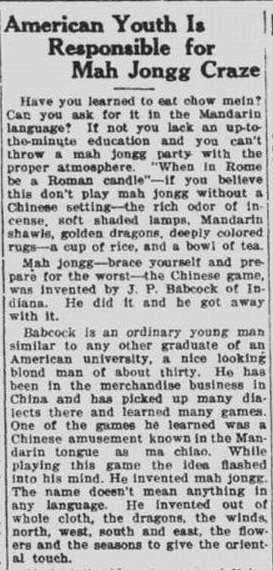 Newspaper story "American Youth Is Responsible for Mah Jongg Craze", from January 9th, 1924.
---